Trey boy turned two a couple of weeks ago.  Now I don't know about you, but most two year olds I know are not exactly in to anything on their own apart from whatever their big brother's are in to, so a little bit of a guessing game on my part was in order.  All of Trey's latest library book choices have been dinosaur clad, so I went with it!
Can I show you how I made the party favors?  First, I recommend using
Canva
to make the labels.  I get so many emails for my printables.  I'm happy to share what I've made, but I'm telling you, it is so super easy to make them on your own, then you can customize the colors to your own party.  Mine says, "Roar! Please eat some more!"
If you want to make something similar you'll need:
Spray paint
Baby food jars
Small plastic dinosaurs
E-6000 glue
These little guys were so cute and colorful, but we're about to spray 'em, sorry.
you'll want to go outside, wear a mask, gloves, hold your breath and pray, then unscrew the glue top.  A large fan wouldn't be overkill either.  I'm only kidding, but have you ever read the back of the E-6000 glue?  It's like signing your life away.  I should have taken a picture of it.  They'll put the fear of God in you, but it sure does work well.  Glue the dinosaurs to the metal baby food jar lids.
I couldn't help but let out a few roars back at these little guys, so you may want to do this by yourself for fear that someone will think you've been abusing that glue… just sayin'.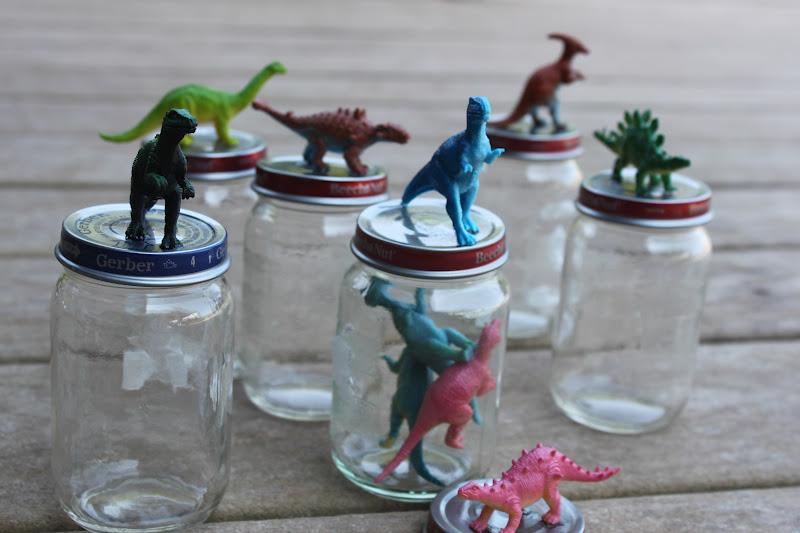 Remove the tops from the glass jars and give them a few coats of spray paint then you're all done.  I filled mine with M&M's and a couple more plastic dinosaurs that had been washed well.  I hope you enjoy these as much as a T-Rex would enjoy clapping.