It's week four of our Super Smart Summer Plan!  If you're wondering what I'm talking about, start here to learn about the laid back learning plan I created for my little guys.
This was a very relaxed week because we were out of town.  I really wanted the boys to capture one main idea: the scientific method.
Scientists observe, question, form hypotheses and conduct experiments to learn about the world around them.  I made a point to ask the boys to guess what would happen before we did a little experiment and we carefully observed things on a nature walk.  It was a fun, super chill week!
Super Smart Summer… "Little Scientists" Week
–Make rock candy (this takes a few weeks to "grow")
–Leaf rubbings to learn about collecting data
–Hand washing experiment– I asked the boys if they thought their hands were clean then had them rub their hands on a piece of bread.  We put a few drops of water on the bread and put it in a ziplock bag.  I kept the bread in a warm place away from them for a little while and we watched as the mold grew!  It was a great teachable activity… you only thought your hands were clean!
–Create a pretend science lab– I collected a bunch of syringes (you can ask for these at your pharmacy) and small containers (old contact cases, medicine cups, etc) and created a pretend science lab for the boys.  It was fun to expose them to real lab paraphernalia.  I encouraged them to make "science experiments" by crushing up leaves and mixing it with water or flower petals.  They loved measuring lake water for a little while, then we ended up getting in a water fight!
Here are my two sillies wearing their most serious scientist faces!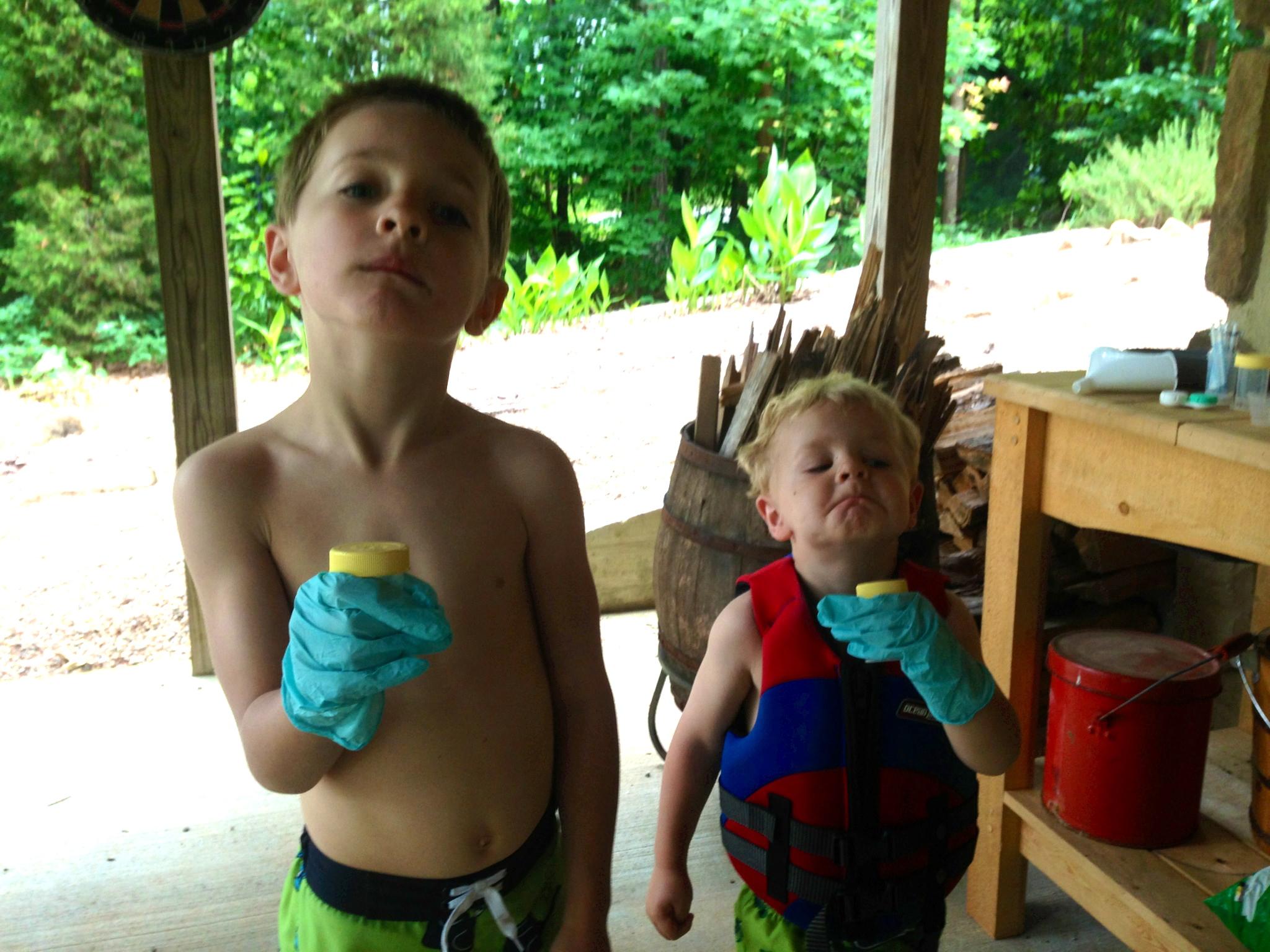 -Nature journaling (Living Creatively has a beautiful post about ten ways to vary your nature journal.  I would love to dive in to this more with the kids.)